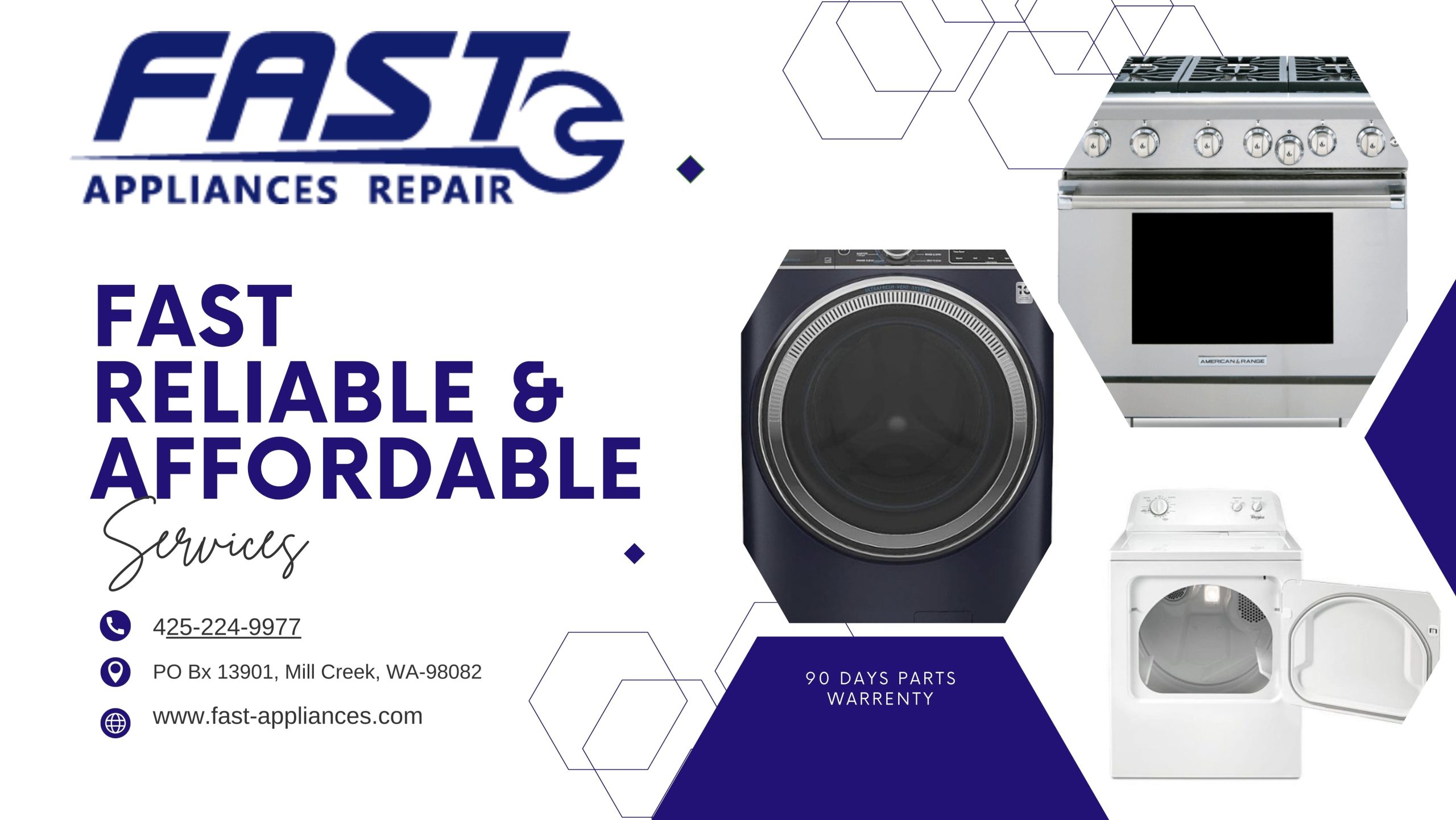 Fast, Reliable and Affordable:
When it comes to reliable and efficient appliance repair services in Mill Creek, WA, one company stands out from the rest—Fast Appliance Repair. As the leading appliance repair company in Mill Creek, we specialize in repairing a wide range of appliances including dryers, washers, dishwashers, washing machines, ovens, and stoves. With our fast, reliable, and affordable services, Fast Appliance Repair has become the go-to choice for residents and businesses in the area.
Fast, Reliable, and Affordable Appliance Repair Services:
At Fast Appliance Repair, our experienced technicians are dedicated to providing top-notch appliance repair services. We have the expertise to handle all your repair needs, whether you require dryer repair, washer repair, dishwasher repair, or washing machine repair. Our skilled technicians understand the intricacies of different appliance models and can quickly diagnose and fix any issues. With our commitment to prompt service, Fast Appliance Repair ensures that you never have to search for "appliance repair near me" again.
Expert Oven and Stove Repair:
In addition to our comprehensive appliance repair services, Fast Appliance Repair specializes in oven repair and stove repair. If your oven isn't heating properly or your stove burners are malfunctioning, our technicians have the knowledge and skills to provide reliable repairs. We understand how essential a properly functioning oven and stove are for your daily cooking needs, and we strive to get them back to optimal performance quickly.
Convenient Service Areas:
Fast Appliance Repair proudly serves Mill Creek, WA, and the surrounding areas including Everett, Bothell, Shoreline, Kirkland, Seattle, Snohomish, Mukilteo, Lake City, Lynnwood, Mountlake Terrace, Edmonds, Kenmore, Woodinville, Brier, and Lake Forest Park. No matter where you are located within these areas, you can rely on Fast Appliance Repair to deliver prompt and efficient service right to your doorstep.
Customer Satisfaction Guaranteed:
At Fast Appliance Repair, customer satisfaction is our utmost priority. We believe in providing not only excellent repair services but also outstanding customer service. From your first contact with us until the completion of the repair, our friendly and knowledgeable staff will guide you through the process. We offer transparent pricing with no hidden costs and provide warranties on our repairs to give you peace of mind.
Conclusion:
When you're in need of appliance repairs in Mill Creek, WA, Fast Appliance Repair is the trusted choice. As the leading appliance repair company in the area, we specialize in a wide range of services including dryer repair, washer repair, dishwasher repair, washing machine repair, oven repair, and stove repair. With our fast, reliable, and affordable services, along with our commitment to customer satisfaction, Fast Appliance Repair has established itself as the best choice for all your appliance repair needs. Contact Fast Appliance Repair today and experience our exceptional service firsthand.
More Posts You May Find Interesting